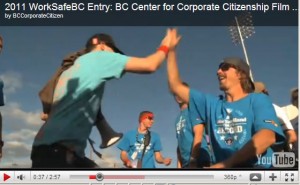 Last September I wrote about Paralympic medalist and injured worker Josh Dueck and his Guiness World Record for the most high-fives by one person in 24 hours.
As part of WorkSafeBC's Raise Your Hand campaign to raise awareness of young worker safety, Josh high-fived 9,307 people at the PNE last summer.
WorkSafeBC made a video about Josh's high-five record and they have entered it in the Boston College Center for Corporate Citizenship's Film Festival 2011.
The public is asked to vote for their favourite video submissions from February 23 to March 10.
For those who don't know Josh's story, he suffered a severe spinal cord injury in a ski jumping accident at 23, working as a coach for the 2004 Canadian junior nationals. He was paralyzed from the waist down, but this has not stopped his career on the ski hill. Within nine months of his injury, he was back on the hill, on a sit-ski. In 2010, Josh won a silver medal for Canada in the men's slalom at the 2010 Paralympic Winter Games.
Congrats again to Josh – and good luck to WorkSafeBC on the submission.