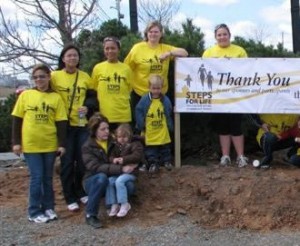 Steps For Life is a fundraising walk to raise money for families who lost loved ones in workplace tragedies. On April 30 or May 1, 2011, people in 33 Canadian communities will walk together and remember the human faces behind the statistics.
"We set up pictures and stories, on the walk, of people who have died throughout the year. As you're walking you get to read the real person's story," said Tanya Steele – one of the organizers of Metro Vancouver's second annual Steps For Life walk on April 30.
"It's recognizing the reality of how many people are actually killed at work. I think it's important for people to understand that people are still dying at work. That is ridiculous. People shouldn't be dying at work," said Tanya, director of training and client services at ER Plus Risk Management Group in Richmond.
I met Tanya at the NAOSH Week awards last fall and called her recently to see what she's working on these days. She told me about her volunteer work with Steps For Life, a project she's doing with two of her coworkers and other volunteers from the Canadian Society of Safety Engineers and Threads of Life – a national organization formed in 2003 by grieving family and friends.
ER Plus is supplying first aid services for the Metro Vancouver walk – and local sponsors are still needed for contributing food and other donations to this family event that marks the start of NAOSH Week. Last year, it was mainly adults, but organizers are hoping more kids will attend this time. They might even get a bouncy castle!
Interested sponsors can email Tanya at tsteele@erplus.com.