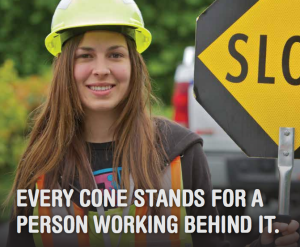 Improved safety for roadside workers is the the goal of a new law in B.C. as of January 1, 2015.
Drivers are now required to slow down and move over for all vehicles with flashing lights — be they red, blue, or yellow.
Any vehicle with flashing lights stopped on the side of the road means there are people working nearby.
In the past, drivers had to check to see if the flashing light was a certain type of "official vehicle" — but not anymore. Now the Slow Down, Move Over rule (within B.C.'s Motor Vehicle Act) applies to all roadside vehicles with flashing lights.
"Many hard-working roadside workers face significant risks on a daily basis, and it is essential that drivers use their common sense and slow down when encountering a vehicle with flashing lights on a highway or road," says Jack Davidson, president of the BC Road Builders and Heavy Construction Association. "…Hopefully this regulation change will prevent unnecessary injuries and fatalities. We are very pleased that our concerns regarding the safety of all roadside workers has been acknowledged."
The expanded Slow Down, Move Over rule requires drivers to drop their speed as soon as flashing lights are visible. On a highway, that means dropping to 70 kilometres an hour or slower.
If the speed limit is 70 kilometres per hour or less, drop to 40 kilometres an hour or slower. Slowing down gives drivers more time to react in the event that more defensive action is required.
Moving over means that if a vehicle with flashing lights is stopped on the side of the road and there's another lane going in the same direction, drivers must change lanes to move farther away from the parked vehicle.
Drivers caught breaking this law will get a $173 ticket and three penalty points for "failing to adjust your speed appropriately or failing to move over," says the B.C. government press release.
How many people work on B.C.'s roads?
More than 2,000 contracted employees work 24 hours a day, 7 days a week to keep our highways and roads open, safe and reliable, according to Todd Stone, B.C.'s Minister of Transportation and Infrastructure, in this recent editorial.
"We are committed to better protecting roadside workers. That's why we are simplifying the current rule," reads the editorial. "It means that drivers will no longer have to figure out what flashing light to pay attention to — it will now be easy to know the rules of the road. Drivers will now be required to slow down and move over for all vehicles with a flashing light."
The press release notes "hundreds more people who have reason to stop and turn on the flashing lights, including conservation officers, commercial vehicle safety enforcement officers, land surveyors, park rangers, tow truck operators, municipal maintenance workers, contracted electronic technicians and geotechnical engineers in addition to police, fire and ambulance services."
I've written about the safety of road workers in the past and see many of them every day in Vancouver. I hope this new law makes a difference and that people remember they are driving past other people's family and friends.