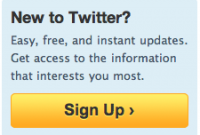 Twitter is a great place for asking questions about safety – or anything else, for that matter. It's a simple social sharing service that lets you read and post very short messages – 140 characters to be exact. That character limit helps keep messages focused on main ideas, like breaking news and links to interesting resources.
I started a Twitter account for this blog (@speakinofsafety) about six months ago and I've had a personal account since 2008. I've encountered so many ideas, photos, comments, debates, links, and invitations to events in real life. At first I thought "How can I keep up?" with all the info people will post – but you don't have to keep up. You just look at it when you have a chance and see what people are talking about at that moment.
I've learned so much and made so many connections on Twitter that I urge you to give it a try, if you haven't already.
Quick tips for getting started on Twitter
1. Go to twitter.com and click the Sign Up button.
2. Fill in the Signup section. (Don't stress. It's short – only four things to enter at first.)
3. Click the 'Create my account' button.
4. Within a minute or two, you will see a welcome screen. At the top are two headings: Interests and Friends. Click the Friends heading and enter "SpeakinofSafety" (without the quotation marks) into the Search box.
5. You will see my Twitter profile. Beside my avatar is a button: a green circle with a + sign in the middle. Click that button to follow me.
6. Click Timeline and you will see my latest tweets. Then start following other people (see Twitter names of safety folks below). The Timeline column is where everyone's news appears – with the most recent news at the top.
What does it mean to "follow" someone on Twitter?
Just in case you don't already know, to "follow" someone on Twitter means you sign up to see their tweets. A "tweet" is a single message from a person on Twitter, and it can be no more than 140 characters (which includes letters, punctuation, and spaces).
Safety people on Twitter
Here are some of the people I follow on Twitter. An @ symbol is placed at the beginning of each Twitter name.
@Preventable
British Columbia, Canada
Campaign against preventable injuries (#1 killer of BC people between the ages of 1 and 44)
@icbc
North Vancouver, BC
Official ICBC account, from senior communications specialist Karin Basaraba
@WorkSafeBC
Richmond, BC
Workers' Compensation Board of BC (sponsor of this blog)
@RYHMovement
British Columbia
Campaign for young workers safety
@SafetyDrivenBC
Trucking Safety Council of BC, communications specialist Leasa Hachey
@OHSCanada
Toronto, ON, Canada
Canada's Occupational Safety and Health Magazine
@HearForeverOrg
USA, Hearing protection news from Howard Leight (maker of in-ear hearing protection)
@CCOHS
Hamilton, ON, Canada
From the communications dept of Canada's national resource for the advancement of workplace health and safety.
Need help?
Please email me if you have any questions about using Twitter. I would be more than happy to help!