Is your emergency eye wash up to par? If not, you're not alone, says Del Goudreau – an occupational first aid attendant who treats and transfers injured workers to hospital from remote industrial sites.
Del visits forestry, construction, and manufacturing sites througout southwest B.C. and Vancouver Island. He wrote a Letter to the Editor that appeared in the July/Aug 2009 issue of WorkSafe Magazine – asking employers to make sure workers have access to proper eyewash supplies.
Del's letter said, "I never see adequate emergency treatment measures or resources to assist injured workers when their eyes have been exposed to chemicals…." That surprised me. I phoned Del for more details.
"You go to some sites and they don't even have an emergency eyewash, or it's not in a conspicuous place that's accessible," he said. "At best, they'll have an emergency eyewash bottle which is only one litre of fluid – and most of the time, I don't know what the fluid is. It's not very well-marked and it's not maintained."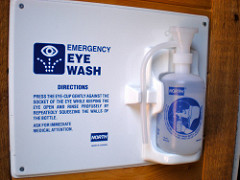 That's bad news for anyone who gets chemicals or particles in their eyes. Flushing with water ASAP makes a big difference. In some cases, it can save vision.
Workplace rules and regs on eyewash vary among jurisdictions. Here in British Columbia, Canada, the WorkSafeBC Regulation Part 5 Chemical Agents requires employers to select appropriate eye wash facilities: "based on an assessment of the risks in each workplace."