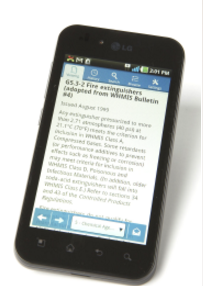 "The biggest part of safety in my opinion, is being armed with the proper information, thus giving you the ability to make proper choices," says Joel Cajapin, a forklift trainer in BC who tweeted a link to a "very useful WorkSafe BC app for iPhones and Androids.
He's talking about the latest version the Occupational Health and Safety Regulation app. The first version, for iPhone, was downloaded 6,729 times, so a second version was released in March to include Android users.
"Both versions allow users to search and browse the Regulation, policies, and WorkSafeBC standards, and share content by email with colleagues. The app loads onto the device so it can be used even when no cell or wireless service is available — such as a remote worksite or basement of a building," reads this WSBC update on the app.
I asked Joel (who is @fit_trainer on Twitter) how/when he uses the OHSR app.
"As a Forklift Safety Trainer, I use it to make sure I am delivering current Regulations during my courses," he said via Twitter direct message. "Also, a very good source for reference when course participants have questions and/or need clarification on regulations requirements."
Sharing through Twitter
This is a great example of social media used well – when something helps you, so you pass it on to others who might benefit as well. I asked Joel what inspired him to tweet a link to it.
"I just wanted to spread the word. I've come across several people that were unaware of the minimal requirements of the regs," Joel wrote. "Bottom line, I am more concerned about people going home to their families in the same condition they showed up for work on any given day."
Thanks to Joel for sharing. What's the best safety resource you've found through social media lately?