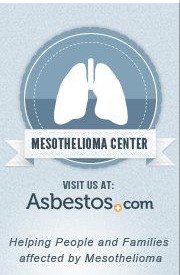 Recently I heard a conversation on CBC radio between Heidi Von Palleske and her mother, in the last days of her life with mesothelioma – a rare cancer nearly always caused by asbestos exposure. The mother asked the daughter to record her plea to government and the asbestos industry that they end Canadian mining and exports.
She really wanted people to know about what happened to her – how her husband came home from work every day at the asbestos plant, covered in "fairy dust" and hugged her and the kids. She wanted to stop it from happening to others – here in Canada and elsewhere.
Asbestos.com
I thought about this recorded interview when I received an email from Ben Leer, introducing himself as the new Public Outreach Coordinator for the Mesothelioma Center (Asbestos.com). Ben said his organization is working hard to connect with other organizations and individuals – so I'd like to help by sharing their social media coordinates.
Connecting online
See the Mesothelioma Facebook page that links people, resources, legal aid, and information on all asbestos issues ranging from occupational exposure to mesothelioma treatment options.
Follow them on Twitter @TheMesoCenter and on LinkedIn as "The Mesothelioma Centre."
Their website Asbestos.com is "a comprehensive one-stop resource for all asbestos- and mesothelioma-related issues, from occupational exposure to treatment options."
In July, I wrote about Paul Douglas, who survived 11 years after a mesothelioma diagnosis and an estimated six months to live. He wrote about his experiences in an online forum for others with his condition. WorkSafeBC created hiddenkiller.ca so you can "tune into the facts so that you, your coworkers, your friends, your family are protected."