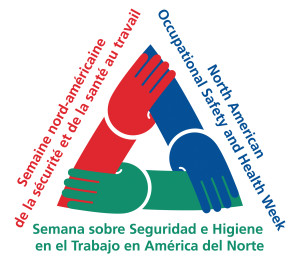 NAOSH Week is getting closer (May 5–11) , so here are a few more ideas on what you can do to engage your workers and the community in thinking about this year's question: Are you as safe as you think?
I talked with Shane Lassam, the OH&S representative for the Public Works Department of Ladysmith, on Vancouver Island, to find out what his town did to win the Local Government category for NAOSH Week 2012.
Shane said it was a jam-packed week of activities and annual training – including fire extinguisher training, building evacuations, site inspections, OHS puzzles, calendar picture contest, and the Steps for Life Walk in memory of people who died at work. Funds from the walk are used to help families coping with loss of a loved one.
"We exceeded our goal of $500 and came in at about $700," Shane said. "It's an awesome representation from our staff and our community in helping to support families of workplace tragedies and to also bring awareness to our young workers about how important safety is in the workplace – a great way to give back to our community."
Safety topics and video clips were sent to staff daily – many of which were from WorkSafeBC's YouTube channel.
Staff reviewed elementary students' safety pictures and chose winners for Ladysmith's 2013 safety calendar. This was followed by a ring toss using Frisbee rings and traffic cones, with safety-related prizes underneath the cones ("more difficult than expected!" said Shane).
Downtown shops created window displays that publicized all the events supporting NAOSH week – getting the community involved. The local Kinsmen held a barbecue with entertainment from the Grade 8 band. Shane shared his thanks to everyone involved – and it's really quite awesome to see how this community joined together to make a difference.
Thanks to Shane, and congratulations to Ladysmith!
NAOSH Week 2013
NAOSH Week 2013 will be launched in BC on Monday, May 6, 2013 at noon at Shipbuilders' Square in North Vancouver, beside Lonsdale Quay. Safety teams will demonstrate how to prevent injuries on land and save lives on the water, and Walter Gretzky will give a presentation on his own workplace injury.