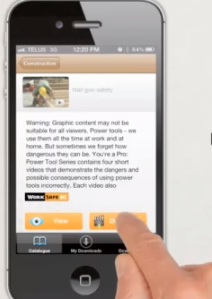 If you haven't already, check out WorkSafeBC's safety videos app. There have been nearly 14 million online views of WorkSafeBC safety videos, and with the app you can download videos to your iPhone, iPod touch, iPad, and Android smartphones and tablets and then watch them anytime, even when you don't have an internet connection.
"The beauty of the downloading option is that workers and employers can watch the videos wherever they want – on a ferry, at a logging camp, at a construction site, or in the basement of a building," says Gordon Thorne, manager of Product and Program Development at WorkSafeBC.
"If there's no wi-fi or cell coverage, it's not a problem – they can still show the videos as a part of their safety meetings, crew talks, or training sessions."
WorkSafeBC's 150+ videos, organized by industry and topic, are also helpful to WorkSafeBC's prevention officers working with employers, says Gordon.
"If an officer has an idea about a specific safety issue at a worksite, he or she can download the relevant videos through the app, and show them to the employer and workers right at the jobsite. I've already demonstrated the app to a few officers and they're quite excited."
It's amazing to see how the internet and its evolving technology can extend the reach of the safety message. WorkSafeBC started producing videos in 1986 – first available on VHS, then on disk – and they distributed about 250 videos on disk per year until they started putting videos online in 2006. As of March 2013, almost 20 percent of WorkSafeBC videos were watched on mobile devices.
Now WorkSafeBC has over 500 videos online and more subscribers to their YouTube channel than any other OHS organization – including the US government.
Visit WorkSafeBC.com for more information about the safety videos app, or to watch the demonstration video. Give it a try and let me know what you think.