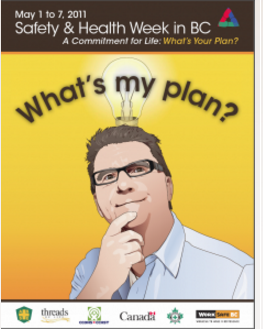 This year's theme for NAOSH Week is "Safety & Health – What's Your Plan?" and it runs from May 1 to 7.
"We encourage participants in Safety & Health Week to use this question to focus on what it is that aids people in ensuring they know what to do, and how to keep themselves and others safe," says BC Rapid Transit Company Ltd's Buck Page, president of the NAOSH Week Steering Committee.
Need any ideas?
The NAOSH Week planning guide for BC is full of ideas, such as:
Organizing a family safety fair and picnic
Planning contests with safety-related prizes
Conducting a young worker safety presentation
Displaying a NAOSH Week banner in a prominent location in your community
Hosting a public open house using displays, videos, speakers, or demonstrations
Many NAOSH Week participants will enter to win awards, and I'm really looking forward to hearing about them in the fall. Good luck to all!