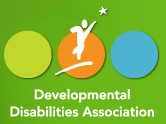 Recently I heard about a new safety training package for workers who live with challenges like autism, Down's Syndrome, and fetal alcohol exposure.
It's called "WorkSmart: A Warehouse Safety Video and Curriculum for Employees with Developmental Disabilities" and it was created by the Developmental Disabilities Association (DDA). I talked with Kirsti Inglis, who oversees the DDA's employment programs, to find out more.
"We help people in the community hire people with disabilities to work for them," Kirsti said. "We help them carve out positions or fill traditional positions and we provide support and training and long-term follow up."
Kirsti and her colleagues run two programs that match workers with employers. Jobs West Employment Services trains workers and helps to place them in new positions and Starworks Packaging and Assemby is a social enterprise that hires people with developmental disabilities to perform light labour and assembly work.
New program fills a void
A couple of years ago, Kirsti was unable to find what she wanted in the safety training market. She was looking for a basic, plain-language, jargon-free video to use in training sessions, but it didn't exist – yet.
Kirsti applied for – and received – a research grant for $5500 from the WorkSafeBC and the Workers Compensation Board of New Brunswick to develop the video portion of the new training package. The rest of it – including a facilitators' guide, supervisor assessment, quiz for employees, and an employee handbook – was created in-house by the DDA. It covers safe lifting, reading workplace signs, working near forklifts, slipping/tripping hazards, and choosing appropriate clothing for work.
"The teacher would introduce the subject, have a discussion, watch the video, talk about the video, then there's a practical exercise or a game," Kirsti said. "Hands-on is a really important aspect of it, with practical exercises."
For more information on this resource, contact Kirsti at 604-273-9778. Check out the November/December issue of WorkSafe Magazine for an in-depth look into these great projects that give so much back to the community.