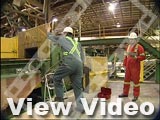 By now, readers in Northern BC have probably seen two new TV ads about workplace safety from SHARP (Safety Health Awareness Research Program). One of the ads deals with lockout and other depicts the risks posed by working under the influence of drugs or alcohol.
The ads will air on stations across the central and northern Interior in Kamloops, Prince George, Terrace, and Dawson Creek until December 21. This is the fifth year SHARP,  a partnership of United Steelworkers locals I-424 and I-425 and the Northern Interior Forest Industry, is partnering with WorkSafeBC on this campaign and association social media.
I hope these ads will remind wood manufacturing workers to keep their eyes on the job and to refrain from drugs and alcohol that may affect their performance on the job – especially during the holiday season, when "the night before" can have effects that lead into the next day.