Summer job season is getting closer, and for many young people this means a first job.
As parents of young people, we expect employers to look out for their safety, but we can't always rely on it. We can't always be there to look out for our kids – especially once they get into the workforce – so make sure they know how to look out for their own safety.
New, young workers are often eager to please, especially in a new job. They may not want to question authority or appear "dumb" if they don't understand instructions the first time.
WorkSafeBC has identified workers between the ages of 15 and 24 as being "highly vulnerable to workplace injury", so let's talk with them and be sure they know it's okay to ask questions or refuse unsafe work.
Top 7 dangers to young workers
According to WorkSafeBC, young workers face seven top dangers on the job, as shown in the table below.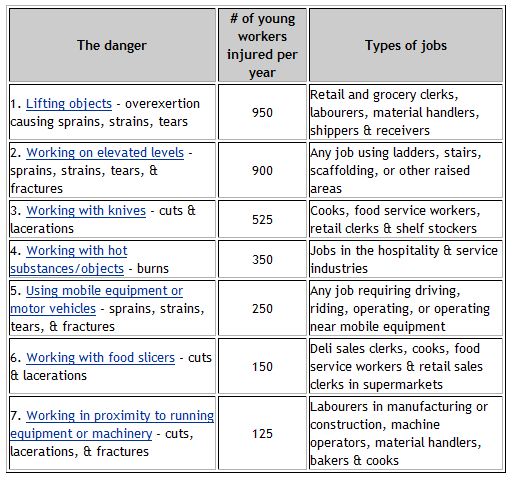 Review and discuss these common injuries and prevention measures with young workers in your life – and make sure they are ready to stand up for themselves. Check out the young workers resource page from WorkSafeBC, where you'll find lots of conversation-starters – along with RaiseYourHand.com.