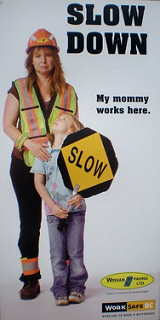 The photos are of real people – not actors – and they aim for the heart, with messages like: "Slow down. My grandpa works here."
More than 50 families volunteered to use their images for the campaign and I saw my first one last year by the Canada Line project in Richmond. The smiling images of the working mom with her cute kids, looked out at the road, reminding drivers: "My mom works here."
Human beings work here
This sends a powerful message. These workers are human beings with families. They are not just annoying obstacles slowing you down.
The current "Slow Down" campaign reminds me of a conversation I had with a safety manager on the Lions Gate Bridge project in 2000. Her name was Nicky Wilson and she said traffic was the biggest risk to workers.

The Lions Gate Bridge was closed some evenings and weekends and at other times construction companies had to let vehicles through this important link between Vancouver and the North Shore.
Some drivers vented frustration at the workers on the road.
"They rolled down the windows and yelled at the workers and the flaggers," Nicky told me in 2000. "It's total ignorance. The people who do slow down to 40 kilometres an hour are getting harassed by the people who want to speed. They honk their horns and give them the finger."
What's up with speeding drivers?
Imagine how people are feeling when they lash out like that. Why are they so angry? Are they super stressed out and under pressure? If so, I hope the Slow Down posters give them a jolt of reality.
Nicky's message to drivers, in 2000, is echoed in today's campaign in B.C.
"Slow down. Ten minutes isn't going to kill you. I mean, we are working here, and this could be your brother or sister."
Recent death of traffic controller in Mission

In closing, I'd like to express my sympathies to the family and friends of Donald Cain, 49, of Langley. He is the flag person who died after being struck by a car in Mission, B.C. July 15, 2010.
Flag person safety is a topic that hits a nerve with the public, judging from the comments on the CBC News story (with files from Wilson Wong) Flag person killed by car in Mission.
Fifteen people have been hit by motor vehicles while controlling traffic from 2005 to 2008, two were fatally injured.